5. Ottakringer Vinyl
&

Music Festival
Erste Informationen zu Ausstellern, Live-Acts und DJs
5. & 6. März 2022 | jeweils ab 10 Uhr
1160 Wien | Ottakringer Brauerei
150 internationale Aussteller aus allen Musikbereichen: Tonträger, HiFi, Instrumente, Jukeboxen, Merch, Poster und was sonst noch dazu gehört: Foodtrucks, DJ-Sets, Live-Acts, Poster-Show, Plattenpräsentationen, Österreichische Indie Labels, …
Live on Stage:
Hand of Juno, Amanda and many more tba
On Turntables:
Mr. FM4 Morningshow himself Stuart Freeman, Christian Schmid (Zick Zack / Feldermaus), Österreichs härtester DJ der Welt Rokko Ramirez, DJ Twilite und last but not least bringt Bang Bang Band Girl Sheri Corleone die Radioshow"It`s Monsters Meeting Time" direkt aus den Niederlanden zu uns.
Special:
Coverfoto-Cover-Exhibition by Junge Fotografie !
Tickets: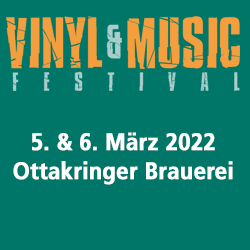 erhältlich bei oeticket.com >>>
Hand of Juno is born in the summer of 2021 from the ashes of the former all-female band Killin' Baudelaire*. Their sound is a darker wave of metal, as it will be certainly heavier than before: chunky guitars infused with electronic/techno influences, industrial noise, and apocalyptic vibes in their lyrics.
*Killin' Baudelaire was an all female band born in 2015, they toured the Europe, The UK and played on big stages like I-days 2017 with Linkin Park, Sum 41, Blink 182; Nova Rock Festival 2018 with Marilyn Manson, Avenged Sevenfold, The Prodigy and many more; Metal For Emergency 2019 with Anthrax.